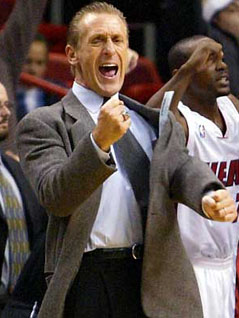 LeBron James to join Chris Bosh, Dwyane Wade with Miami Heat

Pat Riley had to make up ground coming down the homestretch, but the Miami Heat president has secured his triple crown.

LeBron James is coming to South Florida, to join Dwyane Wade and Chris Bosh on a team that is poised to jump from NBA also-ran to immediate championship contender.
http://www.sun-sentinel.com/sports/miami-heat/sfl-lebron-james-decision-070810,0,5992729.story
LeBron James will choose Miami Heat tonight, according to reports

Multiple reports early this morning said James is planning to join Dwyane Wade and Chris Bosh with the Miami Heat. New York Newsday was the first to report James was leaning toward Miami. ESPN also has reported that James is headed to Miami unless he has a "change of heart" before his scheduled announcement at 9 tonight on ESPN.
http://www.cleveland.com/cavs/index.ssf/2010/07/lebron_james_will_choose_miami.html
Miami Heat the 'clear frontrunner'

ESPN's Chris Broussard, who broke the Chris Bosh - Dwyane Wade-to-Miami story, called the Miami Heat the 'clear frontrunner' to land LeBron James.
http://nbcsports.msnbc.com/id/38126552/ns/sports-player_news/
Official with team that made a formal presentation to LeBron James tells Y! Sports: "It's down to Cleveland or Miami for him."
WojYahooNBA
Dwyane Wade(notes) will remain with the Miami Heat and will be joined by Chris Bosh(notes), Chris Broussard reports on Mike & Mike In The Morning.
http://sports.yahoo.com/nba/news;_ylt=A
... chrisboshw
JSM wrote:

AlexKennedyNBA: Some are saying that Chris Bosh to the Heat is a done deal. "Other teams can stop making presentations now, he's Miami bound." Likely a S&T. 37 minutes ago via web
ESPN/Miami Herald scribe Dan Le Batard got the ball rolling by tweeting early Wednesday: "I hear bosh-miami is done .. bosh-wade shared agent avoids tampering...its why beasley, chalmers, anthony still here...raptors get them."

Predictably, even though such an agreement would be highly illegal, the report became accepted as fact by many outlets.

After Raptor and Heat officials denied it, Le Batard admitted on air that it was more an idea he had been hearing than anything definitive.
http://www.torontosun.com/sports/basketball/2010/06/30/14572651.html
Balance&Options24 wrote:Now they want Ray Allen too.......

With a report earlier in the day of how LeBron James and Ray Allen could end up in Cleveland together, it's now being rumored that LeBron has spoken to Allen about playing for less money in Miami.

LeBron is supposedly referring to him, Dwyane Wade and Chris Bosh as 'Dream Team,' and supposedly has already asked Ray-Ray to join the three of them in Miami. Again, most of this is coming from unnamed sources, but it is starting to feel like Bron, Wade and Bosh all have a plan in place to play together, and if they can get Allen to join the mix, they are going to be very tough to beat.
Source: Miami Herald
http://www.rotoworld.com/content/playerpages/playerbreakingnews.asp?sport=NBA&id=398&line=137278&spln=1
Report: Bosh sent to Miami via sign-and-trade

Miami-based sports writer Dan LeBatard is reporting that Chris Bosh may be sent to the Heat in a sign-and-trade for Michael Beasley, Mario Chalmers, and Joel Anthony.

So far this is an unconfirmed report, and in any case it cannot become official until the stroke of midnight.
http://nbcsports.msnbc.com/id/38017785/ns/sports-player_news/
AvenLarue wrote:According to Dan LeBatard, a S&T deal between Heat and Raptors has been agreed upon.

I hear bosh-miami is done ..bosh-wade shared agent avoids tampering...its why beasley, chalmers, anthony still here...raptors get them

via his Twitter

http://twitter.com/LeBatardShow/status/17417534999
Raptors GM Bryan Colangelo is saying that he doesn't want to lose Bosh for nothing and is happy to set up a sign-and-trade scenario so his team can get some compensation. If Bosh decides to go to join Wade with the Heat, the Raptors will likely ask for young forward Michael Beasley(notes) and point guard Mario Chalmers
http://sports.yahoo.com/nba/rumors/post/Bosh-and-Wade-meeting-teams-together-?urn=nba,252475
Update:
The Miami Herald's Dan LeBatard says he hears that a Bosh to Miami trade is "done."

Recommendation:
Rumors continue to swirl around Bosh and a lot still has to happen before we can know anything for sure, but LeBatard is pretty plugged into the South Florida sports scene so this is one rumor to pay some attention to.
http://www.rotowire.com/Chris-Bosh-googid129462-spnba.htm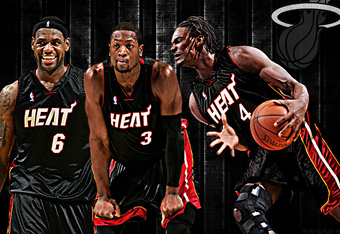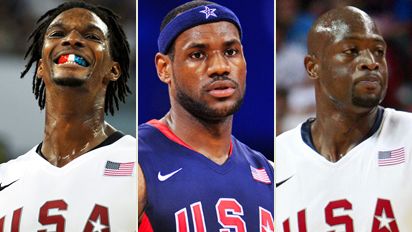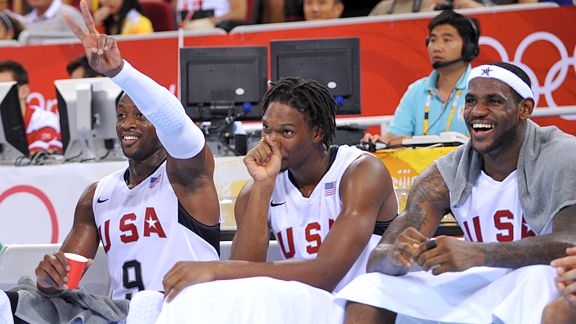 LeBron, Wade, Bosh talk of splitting Heat cash

The South Florida Sun Sentinel has learned that the three star free agents have gone as far as to acknowledge that it might not be possible for the Heat to clear the needed space to start each of the three at the $16.6 million maximum salary that they would be eligible for in the first year of new contracts.

According to the source, the three have agreed to consider to "split the money up," if need be.
http://www.chicagobreakingsports.com/2010/06/lebron-wade-bosh-talk-of-splitting-heat-cash.html
Wade optimistic Heat can land LeBron, Bosh

The starting gate of NBA free agency is about to burst open.

The Miami Heat just might win a triple crown.

A source close to Dwyane Wade said the Heat guard believes his team is poised to pull off a free-agency coup of landing himself, Cleveland Cavaliers guard LeBron James and Toronto Raptors forward Chris Bosh.

However that same source, as well as a party inside the league, said Wade also plans to cover himself during the initial days of the free-agency negotiating period by scheduling interviews with the Bulls, New York Knicks and, in somewhat of a surprise, the Dallas Mavericks.
While the Knicks and Bulls, like the Heat, have the salary-cap space to sign multiple top-tier free agents, the Mavericks do not have available cap space this offseason and would need to complete a sign-and-trade agreement with the Heat to add Wade.

In addition, while there has been speculation that a James arrival in South Florida would mean Pat Riley again returning to coach the team, a party close to Wade indicated that James would be receptive to working with Erik Spoelstra, who is scheduled to begin his third season as Heat coach.

While free-agent negotiations are allowed to begin July 1, teams are not allowed to reach binding free-agent agreements until July 8.

Although speculation on a Wade-James-Bosh pairing has centered on each of the three taking less than maximum salaries to make the math work, one NBA team executive told the Sun Sentinel Monday that it was his belief that not all of the players involved are receptive to such an approach.

Regardless, in order to accommodate Wade and two other signings near their maximum free-agent salary of roughly $16.6 million, the Heat would have to trade second-year forward Michael Beasley. A league executive said he felt Riley, in his role as Heat president, would be able to find such a suitor on short notice, if he does not already have one lined up.

Counting a re-signed Wade, the Heat currently has roughly $27 million available in salary-cap space, with Beasley still on its 2010-11 payroll. There also is a chance of adjusting the buyout of forward James Jones, which could slightly boost the amount of available salary-cap space. Jones must be waived or traded by Wednesday for the non-buyout portion of his 2010-11 salary not to count against the salary cap.
http://www.chicagobreakingsports.com/2010/06/report-wade-hopeful-heat-can-land-lebron-bosh.html
The Miami Plan -- or the Miami Astound Machine, if you will -- is as dangerous as it is fascinating. And we don't just mean on the court.

With the salary-cap space that the Heat cleared in the days leading up to last week's Draft -- and with another roster tweak, such as unloading Michael Beasley and his contract, or with a wink-wink, slightly-less-than-"max" adjustment on the part of the targeted titans -- Miami would be positioned to sign not one, not two but three of the marquee names hitting the market Thursday at 12:01 a.m. EDT.

The anchor piece, of course, would be Wade, who already has what a lot of these 2010 free agents will be seeking as they shop for teams in the coming crazy days: A championship ring. Coincidence, then, that among the top-tier guys, the Heat shooting guard is the one likeliest to stay put? Hardly. Wade doesn't need a new team, a new organization, a new approach. He just needs renewed ones, on all those fronts.

That's where Miami president Pat Riley comes in, with all his glamour and intensity and pedigree and power-breakfast speaking skills. Air-dropping Riley into Akron, Ohio, to make the sales presentation to James before or after Riley's rivals from New York, New Jersey, Chicago or the L.A. Clippers make theirs seems like unleashing a pit bull in the poodle salon. None of the others has done what Riley has done or gone where he's gone, and most of that is precisely what James claims to want to do and where he wants to go.
Let's pause for a moment to appreciate the wonderfulness, or at least significance, of this. While that core couldn't necessarily be classified as the NBA's three best players uniting to kick the rest of the league's butts -- you probably would want James, Kobe Bryant and Dwight Howard for ultimate formidability -- it would be close enough. Closer, certainly, than this league ever has seen before, with the possible exception of a few of Bill Russell's Celtics teams.
As a basketball experiment, it would be fascinating to see the Xs and Os brought to life by such remarkable talents. Who would initiate the action? How would their skills mesh? Where would the outside shooting come from? Then again, with double-teams demanded at three spots, simple math says there would be 2 ½ guys left mostly open much of the time.

As chemistry and psychology experiments, we could learn much about the dynamics of ego, the power of sacrifice and the ingredients needed to bind together such strong personalities. What would the pecking order be? We pretty much know who'd be No. 3, but how would Nos. 1 and 2 get divvied up? Would Wade have squatter's rights because it was his town first? If so, what's higher in the royal flow-chart than King?

As a financial experiment, we might finally get to see how the New York Yankees' methodology of team-building works in pro basketball. The NBA largely has been protected from that by its salary cap, but this would be as close as a hoops team can get to opening the wallet for the best of the best.
Read the rest here:
http://www.nba.com/2010/news/features/steve_aschburner/06/28/trio.in.miami/