Whats up CL! I'm new to the forums! I'm a die hard laker fan! Today i was able to go SPL, I took about 35 pics, got some really good ones but they wont be up till tomorrow cause I don't have the cord for my brothers camera. But here is one pic that i got of shaw.. I also did see some of the members from CL, I saw grego( i think it was him) and misslinn, i saw them on the sideline takes pics. I was sitting right behind the scorekeepers, i was wearing a White Kobe Auth jersey, cousin was wearing a red skater shirt, and dad was wearing a blue shirt. I came out in some of misslinn pics and Hzm.
CLICK ON THUMBNAIL TO GET BIGGER!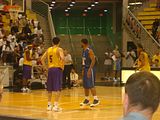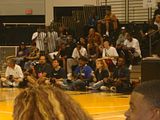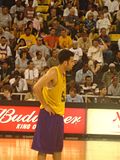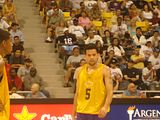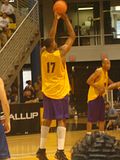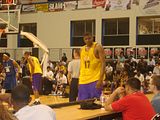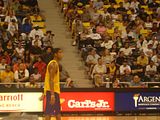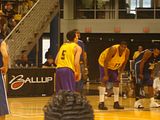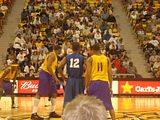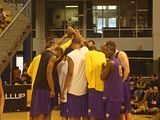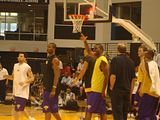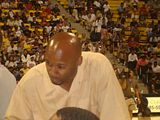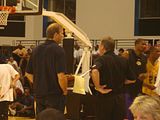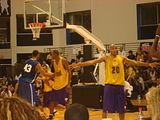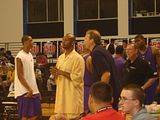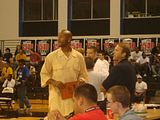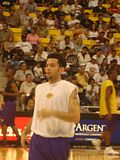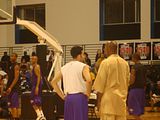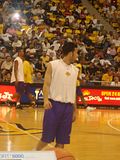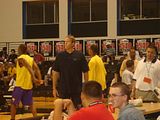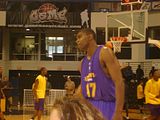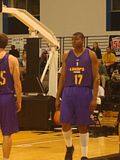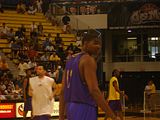 MORE PICS COMMING SOON!
Andrew- This kid is really good, great shot blocking skills, nice post moves, takes his time on most of them, and always looking to dish it to one of his teammates, good passer, great rebounder, needs to learn to bag bodies with other players, he play kind of soft, and needs to learn how to finish it when he is near the rim, he always wants to tip it in or put it off the glass, when he right next to the basket. But other than that, good day for Andrew.
Jordan- This guy is the hole package, he can shoot,handles,play d,rebound,jumps really high and i mean HIGH, good team player, always looking to pass it to the open man, talks alot on the court, and always listens to the coaches in what they have to say. I would have to say he was one of the hardest workers on the court today.
Green- First half wasn't all great, 2nd half he did pick it up though, scored 12-14 pionts, he's a pretty good shooter. He drives it to the hole very good, and finishes strong. Him and Jordan had 2 man game going on for awhile, they were tearing it up today!
Wafer- First half wasnt great.. except he did make a nice 3 at the end of the half. 2nd half he picked up good, made most of his points by driving to the hole, finishes strong, plays prety good d.
Danillo "J.R." Pinnock - I know nothing about this guy, he seems like he knows alot about basketball and how the game works, he creates his own shots. Had a few times, a really nice block which ended up with him on a fashbreak and finishing it strong!
Marcus Douthit - He does all the dirty work. Had a lot of rebounds, and some really good dimes to his teammates.
Mavs centers talk allot of ish, they were talking to Andrew, and pushing him around, playing a little dirty but andrew stepped his game up and showed them.
Sorry for any spelling errors or if anything doesn't make since. I'm so tried, been a really long day. Pictures will be coming tomorrow, I think yall will enjoy them.